Bunion Operation – Hallux Valgus (Bunion) Operation
The London Foot & Ankle Surgery specialises in day case bunion operation using the very latest evidence based treatments, allowing for a quicker rehabilitation and return to activity. Advanced bunion operation techniques allow quicker recovery, immediate weight bearing and minimal post operative discomfort.
What are Bunions?
A Bunion, also known as Hallux Valgus, is a common foot deformity involving the development of a bony growth below the base of the big toe.
A Bunion is a progressive condition, meaning that without intervention it will get worse over time. As the Bunion 'bump' grows, the deformity can become increasingly painful when walking or running, cause footwear fitting issues and develop redness and swelling from excessive rubbing in footwear. The position of the big toe will also shift over time, often overlapping the lesser toes, which can cause further pain and discomfort. These symptoms can become quite severe, affecting daily activities and having a significant impact on quality of life.
Non-Surgical Treatment of Bunions
There are several non surgical treatments for Bunions, including:
Wearing appropriate shoes with enough space in the toe box
Using protective cushioning or pads to reduce pain in footwear
Using toe spacers or night-splints to maintain space between the big toe and lesser toes
Using orthotics to reduce pressure away from the Bunion
The above measures can help treat symptoms and prevent progression of the deformity. However, currently the only way to fully resolve the Bunion is with surgery.
Bunion Surgery
There are many types of surgical procedures that can be used to correct Bunions. The most common performed at our clinic include:
Scarf & Akin Osteotomy
Lapidus Fusion Procedure
Traditional Bunionectomy | Bunion Removal Surgery
Minimally Invasive (Keyhole) Surgery
You can find out more about these kinds of surgery via our dedicated Bunion site, by clicking below:
These are typically performed as day case surgeries (no overnight stay at the hospital), using ankle block local anaesthetic alone or combined with sedation or general anaesthesia. Most of the recovery occurs over 6-8 weeks. Modern bunion operations allow you to put weight on the foot using a specialist shoe straight away, eradicating the struggle with simple day to day tasks after the operation.
Cost of Bunion Surgery
Initial Consultation
£200 – The initial review with Consultant Podiatric Surgeon, Mr. Kaser Nazir, includes a full assessment of your Bunion and formation of a treatment plan.
X-rays
£132 – X-rays are often requested during the first appointment to assess the size and severity of the Bunion. This allows us to determine the best course of treatment.
Package Fees for Surgery
One Foot Bunion Procedure
Single Package Fee
---
£3755
---
Both Feet Bunion Procedures
Single Package Fee
---
£5311
---
One Foot Bunion Procedure
Postoperative Care Package†
---
£4189
---
Both Feet Bunion Procedures
Postoperative Care Package**
---
£5793
---
† Includes postoperative x-rays and 4 sessions of in-house physiotherapy
** Includes postoperative x-rays and 6 sessions of in-house physiotherapy
All of our packages include follow up appointments with Mr. Nazir to monitor your progress after the procedure.
Our package fees cover the typical costs that most patients require when undergoing this procedure. They are intended as a guide for self-funding patients. We will provide a full breakdown of fees tailored to your particular case prior to any surgery.
What is Minimally Invasive Bunion Surgery?
Patients often ask about Minimally Invasive or Keyhole Bunion surgery. These procedures use modern techniques and equipment to decrease the number and size of incisions during an operation. This has several benefits, including:
Faster recovery times
Less postoperative pain
Less scarring
A shorter hospital stay
No need for general anesthesia
There are currently several types of Minimally Invasive procedure available. Find Out More about Minimally Invasive Bunion Surgery at our clinic.
How long is Recovery from Bunion Surgery? | Return to Life & Shoes
Patients spend 2 – 3 weeks using a postoperative shoe, during which time they should keep the foot dry
Once the sutures are removed, you wear a sports shoe or air cast boot for 2-3 more weeks and transition to normal weight bearing.
Typically after week 5 or 6, when x-rays show sufficient healing of the bones, you can start to graduate to normal activity and shoes.
Download our patient information for more details on recovery.
Having Your Bunion Operation
Our bunion specialist, Mr. Kaser Nazir, is a world class Consultant Podiatric Surgeon who works between his NHS post at Guys & St Thomas' NHS trust and in our private clinic. He performs hundreds of bunion corrective treatments every year. We only use evidence based techniques with the latest modern technological advancements.
Bunion Surgery Reviews
'I recently had my bilateral bunion surgery with Mr Kaser Nazir and couldn't be more pleased with the results. I hardly experienced any pain following the procedure, and have had a smooth recovery following Mr Nazir's advice. The rest of staff who have looked after me at the clinic during my follow-up appointments have been brilliant too. I will definitely recommend Mr Nazir's for any foot condition.' – Mari Carmen Civera Martín, Bunion Surgery Patient
What To Expect
Before and After Bunion Surgery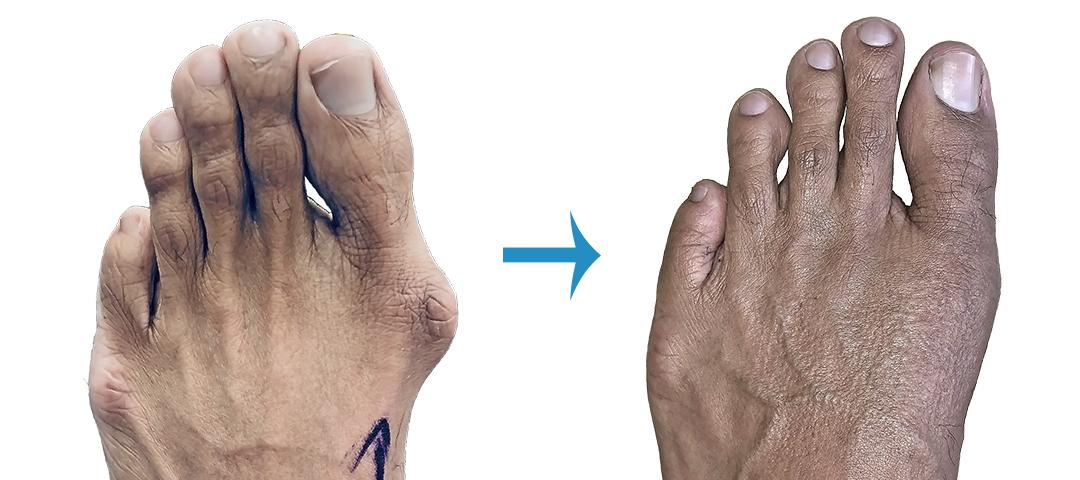 Click below to see more before and after surgery images:
BUNION SURGERY IS COVERED BY PRIVATE MEDICAL INSURANCE
More Information on our dedicated bunion website WWW.BUNIONSURGEON.CO.UK
​