Hammer Toe Surgery | Toe Straightening & Shortening Operation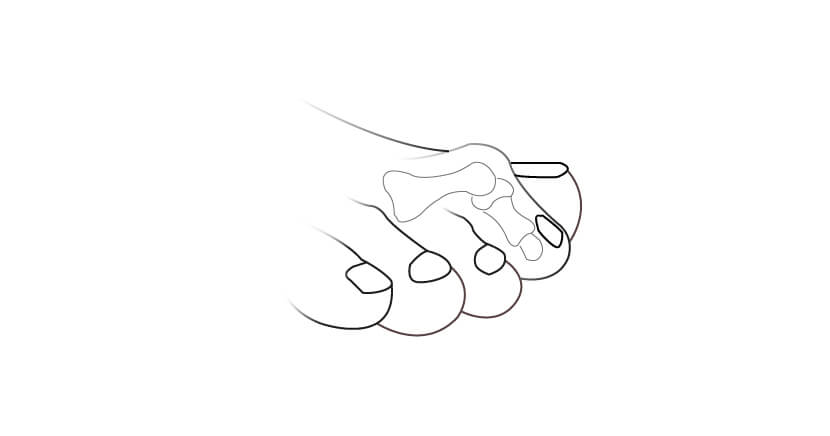 London Foot & Ankle Surgery specialise in toe surgeries to realign and correct toe deformities using minimally invasive techniques allowing early return to shoes and activity.
What Is A Hammertoe?
A Hammertoe is a deformity of the first small joint within the toes. Any of the lesser toes are susceptible to hammering, although the fifth is relatively rare. The deformity causes the toe to be permanently bent, resembling a hammer.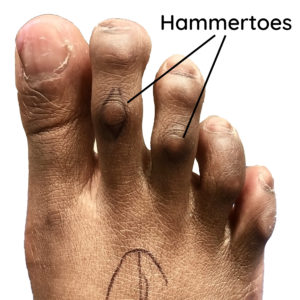 This abnormality can create pressure on the foot when wearing shoes and cause discomfort when walking. The joints themselves can be arthritic and painful.
Hammertoe Treatment Without Surgery
Unless the hammertoe has progressed to a stage that requires toe surgery, simple conservative measures are recommended in the first instance. These might include:
Anti-inflammatory Medicines: To relieve pain and decrease inflammation
Injections: A cortisone injection can further help relieve pain and inflammation in more severe cases
Physical Therapy: Physiotherapy can be useful to stretch tight muscles and tendons that are causing the hammertoe
Bespoke Orthotics: A biomechanical specialist can design and manufacture a custom insole to resolve discomfort and prevent progression of the deformity
Toe Splints or Pads: Splints and pads can be helpful to realign the affected toe and prevent discomfort when walking in footwear
Types Of Hammertoe Surgery
If conservative measures are not successful in eradicating the hammertoe symptoms surgery may become the recommended treatment. There are several forms of Hammertoe Surgery. Your surgeon will assess your hammertoes and advise on the most appropriate type of surgery, taking the whole picture into account. The most common types of Hammertoe Surgery performed at our clinic include:
Arthrodesis
Nextradesis
Arthroplasty
These are typically performed as day case surgeries (no overnight stay at the hospital), using ankle block local anaesthetic alone or combined with sedation or general anaesthesia. Most of the recovery occurs over 2-3 weeks.
What Happens During Toe Surgery
Traditional hammer toe surgery involved using wires sticking out of your toes for 4-6 weeks. This did not allow return to normal shoes and a much longer recovery time as the wires needed removing before full activity is resumed. Modern hammer toe surgery that is performed at London Foot & Ankle Surgery has revolutionised the patient experience allowing predictable toe correction that is acceptable both cosmetically and functionally.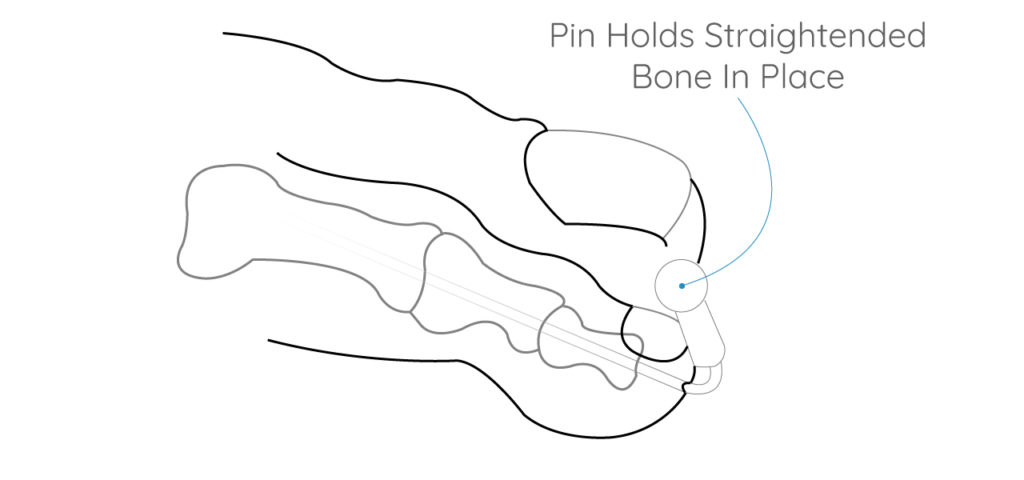 Old Hammer Toe Surgery Techniques With Wire Sticking Out
The Evolution Of Hammer Toe Surgery
Over the years Hammertoe Surgery techniques have evolved in terms of philosophy, techniques and technology. Our procedures allow:
Straight and cosmetically accepted toe position
Minimise swelling
Return to smart footwear
Prevent recurrence of deformity
No wires sticking out of toes
How Long Is The Recovery Following Hammertoe Surgery?
Hammertoe surgery patients spend 1-2 weeks wearing a post op shoe and keeping the foot dry.
Once the sutures are removed, you wear a sports shoe.
Typically return to full activity after 6 weeks, when x-rays show adequate bone healing, you can begin transitioning to normal activity.
The core principles of this technique ultimately come back to the foundation of our entire practice: create procedures that allow patients to treat their conditions preventatively, without the long and sometimes difficult recovery that older methods offer.
Download our patient information for more details on recovery
Having Your Hammertoe Operation
Our hammertoe specialist, Mr. Kaser Nazir, is a world class Consultant Podiatric Surgeon who works between his NHS post at Guys & St Thomas' NHS trust and in our private clinic. He has performed hundreds of hammertoe corrective treatments every year. We only use evidence based techniques with the latest modern technological advancements.
How Much Does Hammertoe Surgery Cost?
The price for Hammertoe Surgery can vary, depending on a number of factors, including:
The number of toes that need correcting
Whether the procedure is for both feet or just one foot
Whether toe implants are used
If you are self funding or using private insurance; insurance providers often set the fees.
Our team will be able to provide a detailed breakdown of fees following your assessment.
Hammertoe Surgery Reviews
'I could not be happier with my experience with Mr Nazir. Not only is he an amazing surgeon he is very kind and always puts the patient first. I would 100% recommend him.' – Joanna Metcalfe, Hammertoe Surgery Patient
What To Expect
Before and After Hammer Toe Surgery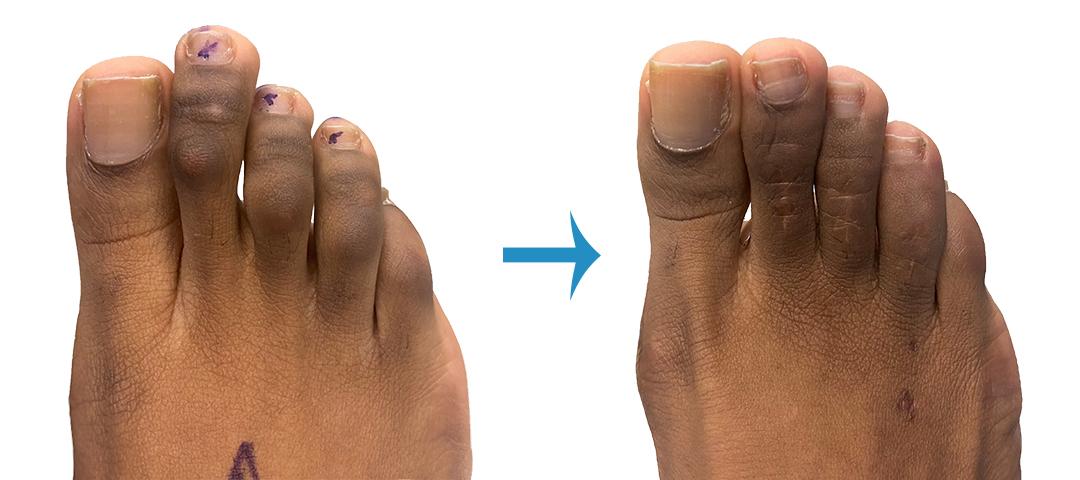 Click below to see more before and after surgery images:

​