London Foot & Ankle Surgery, UK & Dubai London Clinic, UAE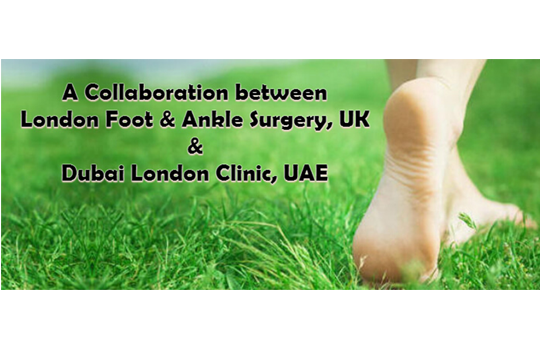 Foot Clinic Dubai
We are pleased to announce that Mr Kaser Nazir, Consultant Podiatric Foot Surgeon from London will be providing visiting Consultant services to patients in the United Arab Emirates from July 2015 on a monthly basis.
Mr Nazir is a highly regarded podiatric surgeon in London who specialises in all aspects of foot and ankle problems and is the clinical director of London Foot & Ankle Surgery in London's Harley St. He also holds a consultant post at Guys & St Thomas' hospital NHS trust in London.
He aims to provide his expertise to patients in the UAE who have seen him in London before or new patients locally at the Dubai London clinic.
Conditions treated include:
Heel pain
Bunions
Hammer toe problems
Foot pain
Diabetic foot problems
Ingrown Toe Nails
Flat Feet
Ankle Pain
Sports Injuries
Achilles Tendon Problems
For more information please visit London Foot & Ankle Surgery Clinic.
Email queries can be directed to Anjelica Wright on info@londonfootandanklesurgery.co.uk
For appointments in Dubai, Please call Dubai London Clinic who will provide his visiting clinic schedule on 800-352
If calling from abroad then please call +971 800 352
For Dubai London Clinic Information. Please visit Foot Clinic Dubai.