Foot Clinic: Tips to Help You Find The Best One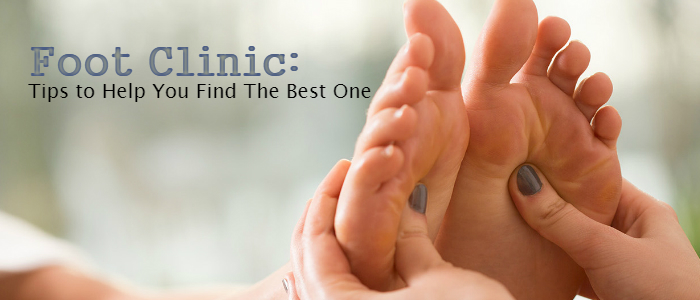 Foot issues are very common today and finding a comprehensive clinic is not very difficult today. Some of the foot issues that are commonly seen and needs expert advice and treatment are:
Fungal or bacterial condition must be treated immediately because in the later stage it might change into infection which can be hard to cure. Dry skin, blisters, peeling of skin, itching and even redness are some of the indications of such condition. You can avoid such issues by keeping your food clean and dry but if you find any of the above symptoms then just speak to your podiatrist and seek his advice.
Dry skin is also an issue which can be avoided by proper moisturizing. You can apply cream or oil to keep your foot moist.
Corns and calluses can be painful sometimes. You must take experts help in case you feel the pain. These are caused mainly due to friction and especially on the bony part of your feet. Doctors initially try to treat the issue with medicines and later if needed go for surgery. The treatment of the issue sometimes becomes difficult, especially if you are a diabetic or have some poor circulation problem.
Warts are sometime very painful, if ignored. They are actually growth in skin which is caused by virus.
If nails are not trimmed properly then you might have to face ingrown toenails problem. This issue is mostly found in large toes and doctors remove a part of nail which is cutting the skin as the treatment procedure.
When muscles start straining your feet then a growth starts developing on the feet bones. These are calcium growths and called as spurs. If you stand for long or maybe you are overweight then they can make the situation worse. Spurs are usually painless but sometime they can be very painful.
You can consult a podiatrist for any kind of foot treatment. You are thinking how can I find the best foot clinic near me? Here are some tips to help you.
You can speak to your local or family doctor and seek his/her help. Doctors in your locality will refer you to the best local clinic.
You can speak to your friends and family for help. Who knows they or someone in the family might have faced similar condition and their experience might help you.
Most of the clinics have online presence. You can browse through the web and collect information about all the foot clinics located nearby. You can read online reviews, if any provided by others, check the details of doctors and the kind of service they provide and then select the best one for treatment.
Always ask question and know podiatrist credentials and experience as they must be HCPC registered in the UK.