Hyprocure Flat Foot Operation in Dubai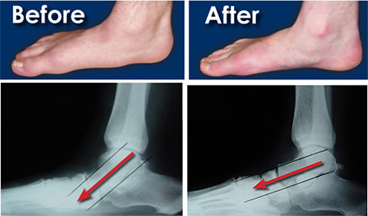 Flat Foot Operation
We are offering minimally invasive flat foot operation in Dubai. Kaser Nazir, Podiatric surgeon from London performs the operation every fours weeks on many patients in Dubai at the Dubai London Clinic, Jumeirah Beach Rd, Umm Suqeim 2.
Telephone: 800 352
Email: dubaifootclinic@gmail.com
The hyprocure flat foot operation is suitable for children and adults with flexible flat feet. It is performed through a small key hole incision and you are allowed to put weight on the foot 1 week after the operation.
Kaser Nazir performs the flat foot surgery often under local anaesthetic as a day case operation.
Read more about thee hyprocure flat foot implant surgery on our website or call our clinic in Dubai on (+971) 800 352. A consultation and Xrays will be performed at your first visit and you will be assessed for the surgery.