Hammer Toe Surgery – Modern Day Toe Operation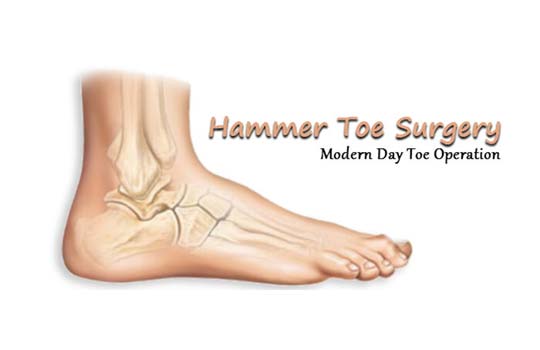 Hammer toe surgery has changed dramatically over the years and the once dreaded toe operation was associated with long recovery, pins sticking out of toes and post operative pain is a thing of the past. The improvement in the newer hammer toe techniques are largely due to technological advances in industry that have seen development of hammer toe implants that keep the toe aligned internally allowing the joint in the middle to fuse over time.
What is a Hammer Toe?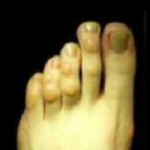 A Hammer toe is a crooked toe that gradually becomes bent at the PIP joint and over time developed a painful corn on the knuckle. Initially it is a flexible deformity that gradually become rigid and permanent causing difficulty with footwear due to the toe sticking up and pain under the ball of the foot on occasions. It is also associated with bunion deformity that essentially gives an eviction notice to the second toe. Most commonly the 2nd and 3rd toes are affected.
What causes Hammer Toe?
A variety of common causes have been described:
– Poor foot wear
– Excessively long 2nd toe and occasionally 3rd
– Hereditary
– Injury
– Bunion giving eviction notice to 2nd toe
Hammer Toe Surgery:
Hammer toes can be straightened surgically as a day case procedure. They can also be slightly shortened to improve foot wear in the long term and to prevent recurrence. All procedures essentially involve removing bone from the toe to straighten the joint. Fusion of the knuckle joint ensures that the toes do not contract again and are well aligned.
Older Hammer Toe Surgeries:
These involved fusion the joints with K-wires that stick out of the toes for 4-6 weeks whilst the bone heals.
Modern Hammer Toe Surgeries:
At London Foot & Ankle Surgery we use the Nextra Hammer toe correction system. This is a small locking system that sits within the two bone ends allowing the bones to fuse with no wires.
Advantages of Nextra Hammer Toe surgery:
– Quicker return to closed shoes
– Reduced swelling
– No K wire removal required
Toe Surgery Recovery: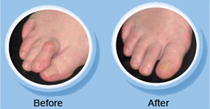 Recovery typically takes 6 weeks although with modern techniques, you can return to closed shoes 2-3 weeks later.
– Sports after 8 weeks
– Gentle exercise after 5/6 weeks
– Return to desk job after 1 week
Hammer Toe Surgery Info:
– Can be done under local anaesthesia, sedation or general anaesthetic
– Corns on toes are also removed during the procedure
– Day case surgery – you go home on the same day
– You will be seen at the clinic 1 week after surgery and 2 weeks later for stitch removal.
– We also review patients to assess outcome after 2-3 months and later if required.
– Bunion surgery and hammer toe correction can be done at the same time.
Is my To Operation Covered by Private Medical Insurance?
Yes.
Most insurance companies identify this as a deformity that can be corrected with surgery and cover all costs. Please enquire with us.
For more information, Please contact Anjelica Wright on 0207 820 8007!