Smart Toe Implant: A Brief Look at Its Various Advantages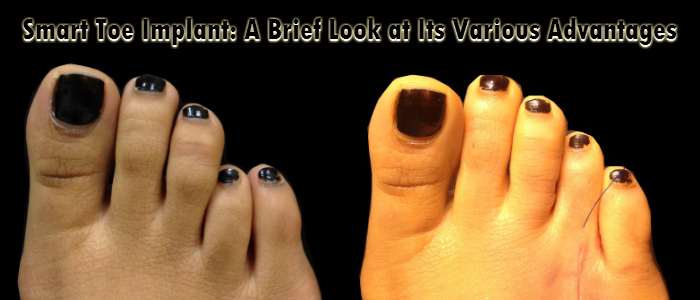 A Smart Toe implant is a specially made implant that is used for carrying out arthrodesis procedures which help in correcting foot deformities like hammer toe, mallet toe and claw toe. Ever since it was first introduced almost a decade ago, it has been greatly appreciated by podiatric surgeons and orthopedics as its structure offers more advantages while carrying out the procedure itself. The most important reason as to why this implant is now widely preferred is because it offers such benefits like faster healing, few complications and highly positive outcomes.
Developed by a French company called Memometal Technologies, the Smart Toe implant technology has already helped millions of patients to recover from a range of conditions such as:
Claw toes
Mallet toes
Arthritic toes
Rigid hammertoes
Crooked or deviated toes
Hereditary conditions that affect toes 2 to 5
Morton's toe deformity (i.e. long toes that require shortening)
Compared to the traditional surgical methods that are used for correcting critical and painful toe problems, the Smart Toe implant has already been proven far more effective and result oriented. The implant itself is made with nickel titanium (NiTi) material, a notable shape memory alloy that is also frequently referred to as Nitinol. This material is known for its high biocompatibility which renders it numerous properties that make it suitable for orthopedic implants. The heat-activated and compressive features of Nitinol make it perfect for the development of Smart Toe, which is a device that is first of its kind to be created with this material.
The implant device is cooled before the actual surgical process and then when it is implanted it expands under the influence of the body heat and shapes itself accordingly. Along with expansion, there is also a shortening of the length that helps to keep the bones placed together tightly. This also facilitates in promoting the fusion process of the bones. Compression of the bones actually helps to reduce the healing time significantly.
Among the various ways in which the patients can be benefitted by using these implants, some are listed below:
No disruption of healthy joints
Less pain experienced during healing
Compressive properties of these implants promote bone stability, bone union and quicker healing
The implant helps to resist rotations thereby keeping the joints stable
No requirement of post-operative implant exposures; nothing external is needed after the surgery for maintaining the position of new joint
Eliminates the risks associated with "pin tract" infections (i.e. no open sores that may lead to infections which are common with surgeries employing a K–wire)
Foot Doctors all around the world prefer to work with Smart Toe implants as they allow in perfectly straightening and aligning the toe. They are known for their high success rate in fusing bones in right positions. This means that the prognostic prospects of any patient suffering from hammer toe or claw toe deformities is quite high while using Smart Toe implants for toe correction.